Saving graphs
Steps
Click on "Save image."
Click on "Save as SVG" or "Save as PNG."

PNG vs. SVG: pros and cons
SVG Pros
Image quality does not deteriorate when image is enlarged.
SVG  Cons
May not show properly in some of the older web browsers such as Internet Explorer 8. Works with Chrome.
Some blog services do not allow SVG file to be uploaded as image file.
PNG Pros
Works in web pages. Can be pasted into Excel and other applications.
Transparent background is available.
PNG Cons
Image may become more coarse when enlarged.
Examples
| | |
| --- | --- |
| [SVG format] Click here if image is not displayed above | [PNG format]  Click here to see an enlarged image. The outline of the dots are less smooth than SVG. |
---
Sharing E2D3 generated graphs and embedding in external blog sites
Simply copy and paste the iframe tags.
Here's an example from Livedoor blog.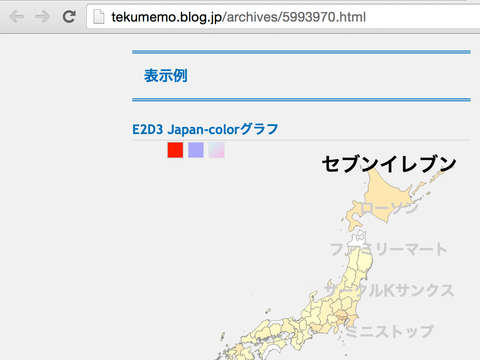 Steps
Click on "Share chart" above each E2D3 graph.

A URL link for sharing or an iFrame tag for embedding will be generated. To embed the graph in another site, copy the iframe tags in "For blog" window.
Click on the "Close" button.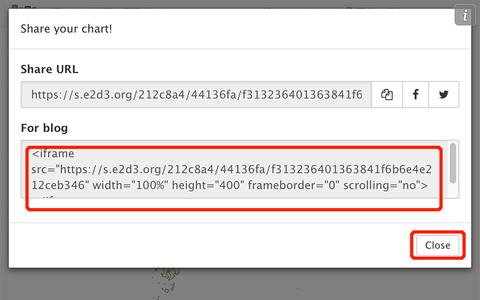 2.Embedding in blog sites
Open a new blog dialogue and click on "edit HTML tag" button.
Paste the iframe tag and save.

Example
Below is an example of an E2D3 generated graph.

These articles are written by かわまいさん
Visit her cute インコ blog s="alignnone size-medium wp-image-18650″ src="/wp-content